Free shipping on orders above $49 || Buy Online Pickup In Store
Login
Log in if you have an account
Dont have an account? Register
Smith 4D MAG 2021 - Asian Fit Goggles
Specifications
| | |
| --- | --- |
| Bonus Lens | Yes |
| Color Filtration Lens(Chromapop,Prizm, Etc.) | Yes - ChromaPop™ |
| Frame Size | Medium |
| Helmet Compatiable | Yes |
| Lens Shape | Spherical |
| Quick Lens Change System | Yes |
| Warranty | 1 Year |
Product details
Summary
You can now see more than ever before. The 4D MAG™ raises the bar for lens innovation with the introduction of BirdsEye Vision™. This state of the art lens technology has a 25% increase of overall field of view compared to the I/O MAG™. In addition Smith has evolved Smith MAG™ by integrating the dual locking mechanisms into the goggle frame outriggers to make a quick and easy lens change system. They know that with BirdsEye Vision™ featuring ChromaPop™ lens technology, you'll be able to see even more detail as you take on untracked territory.
Frame
Medium Fit
Asian Fit - Extra padding that provides a seamless fit for flatter nose bridges
Smith MAG™ Interchangeable Lens Change System – Dual locking mechanisms and 8 magnetic contact points enable speedy and secure lens changing to get your optics swapped and you back out on the hill faster. A simple push of a lever on either side of the lens releases it for swapping as the light and conditions change.
Lens
Bird'sEye Vision™ – State of the art lens technology with 25% increase in overall field of view copared to the I/O MAG.
ChromaPop™ Lens Technology – Through Smith's proprietary ChromaPop™ lens technology, we help you see detail and color beyond normal capabilities. ChromaPop filters two specific wavelengths of light that cause color confusion. By doing this the lens delivers greater definition, more natural color, and unmatched clarity to allow you to see more detail.
TLT (Tapered Lens Technology) – Visual distortion occurs when light waves hit an aggressively-curved lens causing it to bend or distort an object's true size or position. Tapered Lens Technology corrects the distortion by progressively tapering the lens from the optical center towards the outer edges. Light waves are thereby delivered straight to your eye resulting in zero distortion and true optical clarity. What you see is what you get. Carbonic lenses are engineered to be the most impact resistant lens material in the world. Injection molded with Tapered Lens Technology for optical precision and a high level of protection.
5X™ Anti-Fog Inner Lens – The most advanced anti-fog lens ever created, engineered to provide over five times the absorptive properties of anything on the market.
Includes Bright and Low Light Interchangable Lenses - See Lens Guides Below
Ventilation
AirEvac™ Integration Technology to Reduce Fogging
Strap
QuickFit Strap Adjustment System with Clip Buckle
Ultra-Wide Silicone Backed Strap
Features
Includes Goggle Hard Case with Microfiber Bag
Lens Guide
Lower VLT% = Darker Lens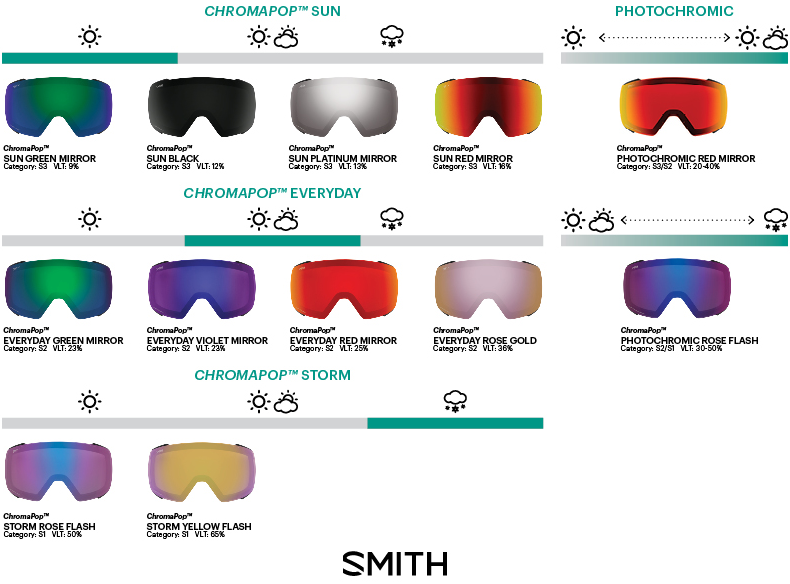 Bonus Lens Guide
| | | |
| --- | --- | --- |
| Frame Color | Primary Lens | Bonus Lens |
| BLACK | CHROMAPOP SUN GREEN MIRROR | CHROMAPOP STORM ROSE FLASH |
| BLACK | CHROMAPOP SUN RED MIRROR | CHROMAPOP STORM YELLOW FLASH |
| BLACK | CHROMAPOP SUN BLACK | CHROMAPOP STORM ROSE FLASH |
| BLACK | CHROMAPOP EVERYDAY RED MIRROR  | CHROMAPOP STORM YELLOW FLASH |
| BLACK | CHROMAPOP EVERYDAY GREEN MIRROR  | CHROMAPOP STORM ROSE FLASH |
| BLACK | CHROMAPOP PHOTOCHROMIC RED MIRROR  | CHROMAPOP STORM ROSE FLASH |
| WHITE VAPOR | CHROMAPOP SUN PLATINUM MIRROR | CHROMAPOP STORM ROSE FLASH |
| WHITE VAPOR | CHROMAPOP EVERYDAY GREEN MIRROR  | CHROMAPOP STORM ROSE FLASH |
| WHITE VAPOR | CHROMAPOP EVERYDAY ROSE GOLD MIRROR  | CHROMAPOP STORM ROSE FLASH |
| CLOUDGREY | CHROMAPOP SUN PLATINUM MIRROR | CHROMAPOP STORM ROSE FLASH |
| LAVA | CHROMAPOP SUN RED MIRROR | CHROMAPOP STORM YELLOW FLASH |
| ROCK SALT / TANNIN | CHROMAPOP EVERYDAY ROSE GOLD MIRROR  | CHROMAPOP STORM ROSE FLASH |
| ROCK SALT / TANNIN | CHROMAPOP SUN PLATINUM MIRROR | CHROMAPOP STORM ROSE FLASH |
| POLAR BLUE | CHROMAPOP SUN PLATINUM MIRROR | CHROMAPOP STORM ROSE FLASH |
| FRENCH NAVY | CHROMAPOP SUN BLACK | CHROMAPOP STORM ROSE FLASH |
| FRENCH NAVY | CHROMAPOP EVERYDAY VIOLET MIRROR | CHROMAPOP STORM ROSE FLASH |
| SPRUCE FLOOD | CHROMAPOP SUN GREEN MIRROR | CHROMAPOP STORM ROSE FLASH |